PyKaraoke
PyKaraoke is a simple karaoke player designed in Python. The application allows playing your karaoke sessions saved in CDG (MP3+G, OGG+G, WAV+G), MIDI (.KAR, .MID) and MPEG formats. The functionality of the program:
exporting the song list to txt file
printing the list of songs
creating a playlist based on songs from the base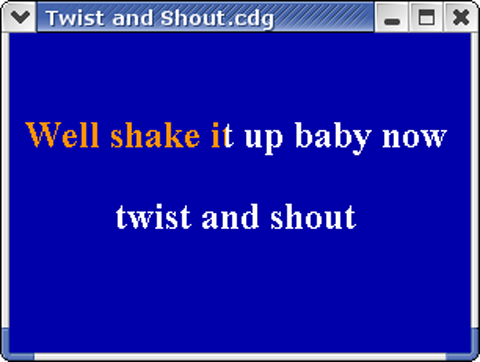 Python
Python is an interpreted, interactive programming language, having a fully dynamic set of types or automatic memory management. Python's code can be launched in Windows, Linux/Unix, Mac OS X, it was also re-ported for Java and .NET. Features of the language:
similarity to Tcl, Perl, Ruby, Scheme and Java languages
very clear syntax
intuitive approach to objectivity
full modularity
supporting mistakes based on exceptions
set in applications as scripting interface
Ruby
Ruby is an interpreted, fully object-oriented and dynamically typed programming language based on Perl, Smalltalk, Eiffel or Lisp. Features of Ruby:
taking everything as an object
supporting errors through exceptions
autocleaning of memory
regular expressions built into syntax
Free Pascal
Free Pascal is a multiplatform Pascal and Object Pascal compiler. The compiler features:
availability for various hardware platforms (Intel x86, Amd64/x86_64, PowerPC, PowerPC64, Sparc, ARM processors) and supporting systems (Linux, FreeBSD, Haiku, Mac OS X/Darwin, DOS, Win32, Win64, WinCE, OS/2, Netware and MorphOS)
language syntax semantically compatible with TP 7, most of Delphi versions and partially Mac Pascal
integrated code editor
SWI-Prolog
SWI-Prolog is a popular in academic/semantic network designers environment Prolog compiler. The environment has:
wide range of libraries responsible for among others cosupporting with Java (JPL), TCP/IP, SSL, CGI sockets or parsing SGML/XML (HTML) or RDF documents
integrated debugger
built-in help
FreeBASIC
FreeBASIC is a BASIC language compiler that has syntax similar to Microsoft QuickBASIC which allows procedural object-oriented programming and metaprogramming. FreeBASIC has:
indicators
unmarked data types (not negative)
possibility to use preprocessor known from C
extensions to wide range of libraries (e.g. Allegro, SDL, OpenGL, GTK+, Windows API)
support for Unicode and debugging (GDB)
supporting insets in assembler
Lua
Lua is a fast and light scripting language often used for extending the functionality of the programs written in other languages. Distinguishing qualities:
simple syntax based on procedures and associative entities
mobility (the language has been implemented as a small library in ANSI C)
dynamic data types
automatic cleaning of memory
economical standard library (out/in operations, manipulation of texts and tables, mathematical and logic operations, communication with the system)
Ghostscript
Ghostscript is a PostScript (PS) and PDF language interpreter. The interpreter allows postscript files conversion to many formats (among others: BMP, EPS, G3, G4, JPEG,PCL-XL (PCL 6), PCX, PDF, PNG, PNM, PSD, TIFF, X Window System, XCF) thanks to which preview or printing of documents written in PS or PDF formats is possible on devices without interpreters of those languages. Because Ghostscript itself is an interpreter containing simple console, it's worth installing GSview, a graphic overlay for Ghostscript.
DrRacket
DrRacket (formerly DrScheme) is a development environment for Racket language (Scheme implementation which is a Lips language dialect). DrRacket offers:
integrated debugger
coloring and checking syntax
support for many levels of language (depending on programmer's experience)
tab system
stepper allowing visual analysis of the expression value counting process
POP Peeper
POP Peeper is a program for monitoring e-mails which informs you about received mails. The application offers:
supporting POP3 and IMAP protocols
direct reading, erasing and replying to messages
sending mails from the application
securing access with password
notifying about new message (sound or visual)
supporting any number of mail accounts
system of extensions
integrated address book
Magic Mail Monitor
Magic Mail Monitor is a simple and friendly program which monitors mailboxes and informs about incoming mail. The application offers:
supporting many accounts
encoding (SSL)
antispam filters
message filters
friend list (messages from a mail address (or domains) added to the list are not filtered)
notifications about new messages
ActivePerl
ActivePerl is a popular Perl distribution having binary version for Windows and Linux or Mac OS X (there are also versions for less popular systems as HP-UX, AIX). The distribution is distinguished for graphic installer of pre-compiled modules (only for Windows).
Strawberry Perl
Strawberry Perl is a Perl distribution for Windows being main rival for ActivePerl and its free equivalent. Strawberry Perl includes:
perl interpreter
MinGW compiler (gcc, ld, dmake, binutils)
CPAN client
several most popular and most useful Perl packets (Bundle::CPAN, Bundle::LWP, XML::Parser)
database drivers
Smampi
Smampi is a clear and easy in use mail client allowing management of any number of mail accounts in the web browser. The application offers:
supporting IMAP, POP3 and SMTP protocols
sharing mails between different accounts
import of contacts from Google Gmail
support for safe connections through the TLS and SSL protocols
integration with Dropbox (sharing files)
supporting signatures
Redmine
Redmine is an internet application designed for convenient management of project, written with the use of framework Ruby on Rails. Program's key features:
supporting multiple projects
system of tracking problems (inquiry type, status, priority, category, estimated time, % done, export to PDF/CSV/Atom channel)
integrated calendar and gantta chart
possibility of creating forum and wiki for every project
integrity with version controlling systems (SVN, CVS, Git, Mercurial, Bazaar and Darcs)
system of plug-ins
access control based on role system
mechanism of leaving messages and sending documents/files
tracking time
system of notifications using Atom and e-mails

DBDesigner Fork

DBDesigner Fork is a software which derives from DBDesigner project and is used for visual designing of databases. The possibilities of the application:

using a toolset for visual designing of databases (fields, tables, relations, notes, descriptions and photos)
export of created diagrams to SQL file (compatible with Oracle, SQL Server, MySQL, FireBird, SQLite and PostgreSQL databases) or graphic file (png, bmp)
reverse engineering (generating diagrams on the basis of the code)
visual designing of queries on the basis of created diagrams
synchronization with databases

WWW SQL Designer

WWW SQL Designer is a simple application allowing visual designing of database charts (ERD) directly in the browser's window. The possibilities of the program:

designing and managing tables/fields
managing keys (main, index, unique, full-text)
creating relations (foreign key)
saving/loading diagrams to/from xml file
generating SQL code for bases and MySQL, SQLite, web2py, MS SQL, PostgreSQL, Oracle, SQLAlchemy, VFP9, CUBRID mechanisms
importing schemes of existing databases

Raven

Raven is a vector graphic editor available online. Possibilities of application include:

import of gif, jpg, png and svg formats
export to SVG, PDF, BMP, EPS formats
toolset (transformations, Bézier's curves, creating geometric figures, edition of curves and nodes)
layer support

Phoenix

Phoenix is a simple raster graphics editor available directly from web browser. Among others the application offers:

importing files (jpg, png, psd, gif) from disk or url address
supporting on files (clipping, scaling, rotating, reflecting)
supporting layers and masks
a set of basic tools including e.g. wand, a free-select tool, brush, filling tool, text, eraser
a set of basic filters (blur, sharpen)
keeping history of changes

Myna

Myna is a multipath music editor available online. The application allows:

importing your own sound files or using samples from the library
supporting up to 10 paths
recording sound
importing wav, aif, mp3, wma, m4a, ogg files
adding effects
manipulating paths (adding, clipping, deleting fragments)
playing composed tracks

phpMyAdmin

phpMyAdmin is a tool written in PHP language for graphic managing of MySQL database in the web browser. The software allows:

managing databases (creating/deleting/editing bases, tables, views, fields and indices)
managing users and their authorization
performing and editing SQL queries (built-in query editor)
export of data to CSV, SQL, XML, PDF, ODT, ODS, Word or LATEX formats
import of data from CSV and SQL formats
generating information about server working (network traffic, query statistics, server work parameters monitoring on charts)

Chive

Chive is an Internet application for managing MySQL database which is an alternative for phoMyAdmin and its clumsy interface. The application supports most of all typical operations on databases:

creation and edition of databases, tables, functions, procedures, releases and views
browsing databases, tables, functions, procedures, releases and views content
writing and making queries by using a built-in editor (it has syntax coloring)
adding SQL queries to bookmarks
managing users and their authorizations
import/export databases from/to sql/csv format